A Best-in-Class POS Solution for QSR & Delivery
The Harbortouch ONYX POS system
delivers a high quality
point-of-sale solution
that is unmatched in both reliability and functionality.
Save time and money with Harbortouch POS for quick service and delivery restaurants. Efficiently manage your delivery or quick service restaurant so that you can focus on what's important: keeping your customers satisfied and spending!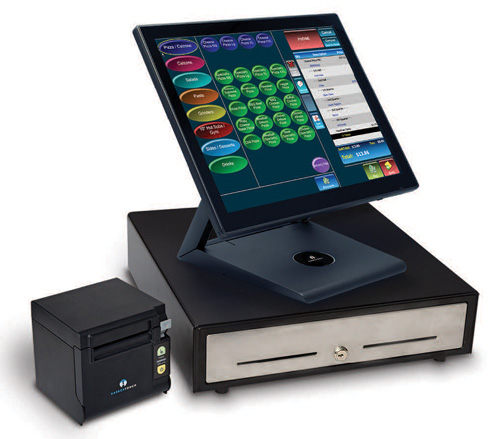 Benefit from Advanced Software with Top-of-the-Line Hardware
State-of-the-art POS software provides all the features and functionality needed to support your business while high-end hardware provides the reliability you need.

Utilize Countless Time and Money Saving Features
Increase operational efficiency, minimize ordering errors and reduce shrinkage. More accurate employee time tracking reduces payroll while Harbortouch's reporting capabilities help you decrease accounting and bookkeeping expenses.
Professional Installation, Comprehensive Training & 24 Hour Support
Your POS system will be professionally installed by one of our certified technicians. We provide preliminary onsite training and extensive remote training to make sure you are proficient with your new system. In-house customer service and technical support are available 24 hours a day, 7 days a week.
Powerful Reporting Capabilities
A wide range of reports, including your key performance indicators, will provide you with a top-level view of your operations so that you can make more informed business decisions. Harbortouch's powerful Lighthouse platform provides you with remote access to your reports anytime, anywhere.
EMV & NFC Ready
Every system includes a free customer-facing PIN pad that
supports PIN debit, EBT, EMV chip cards and NFC payments
including Apple PayTM and Android PayTM.
Hybrid Cloud
Hybrid cloud technology provides the benefits of the cloud such as real-time reporting and redundant back-up while maintaining the advantages of a local system including faster speed and the ability to operate if the Internet goes down.
Driver Management
The delivery dashboard gives you a complete control of your delivery drivers. From the dashboard, you can see which drivers are available and who is out on delivery. You can easily assign drivers to specific orders and monitor how long the driver has been on delivery. You can also view order details and see how long each order has been waiting.
Caller ID Integration
The software features advanced caller ID integration to easily manage incoming calls. View each customer's contact information and order history as the call comes in and then assign each call to a new order in a single step.
Customer Database
Quickly view customers' order history and personal information. Great for loyalty programs or for serving up the "regular".
Directions & Mapping
The software offers advanced mapping functionality for delivery orders and allows you to print directions right on the receipt paper. You can even print directions with multiple stops to deliver more than one order in a single trip.
Flexible Pricing
Easily set up and customize coupons, specials or other discounts. Discounts can be manually entered or can be automatically calculated based on day, time or items ordered.
Employee Management
Access a complete employee database, showing specific details on each staff member. Track hours worked, edit timesheets, calculate overtime, evaluate sales performance and manage security levels.
GET
in touch
1.888.666.7074